Our Difference Will Make You Smile
We deliver healthy, beautiful smiles year after year.

SILVER SMILE Dental Specialists is a team of Orthodontic and Pedodontist (Pediatric) Dental specialists "clips and kids dental specialists" located in the city of Rajkot, Gujarat. At SILVER SMILE we work with the ethics to bring a positive difference in the dental health of children, youth and adults by offering the highest quality specialized dental care which we believe improves our patients appearance, self-confidence and overall quality of life. This philosophy is the foundation of work ethics by Dr. Digant P. Thakkar M.D.S. (Orthodontist) and Dr. Prerna D. Thakkar M.D.S. (Pedodontics & Preventive Dentistry)
STATE OF THE ART OPERATORY & TECHNOLOGY
Dr. DIGANT P. THAKKAR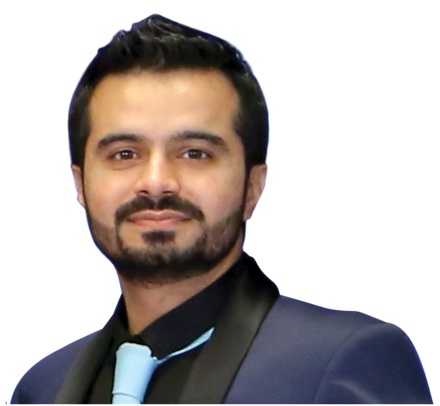 Dr. Digant P. Thakkar has an experience of about 9 years in treating both children and adults who require everything from simple retainers to complicated surgery. Our entire team is professionally trained, and we believe that continuing education is a tremendous part of ensuring the best care for you. Dr. Digant attends many continuing education courses throughout the year in order to stay up-to-date on the latest techniques and materials. These courses include annual association meetings, study clubs, Indian Orthodontic Conferences, regular visits from orthodontic consultants, computer and imaging system training, and local continuing education opportunities.
Dr. Digant's recent courses in 2018 include workshop on orthodontic bone screws for complex orthodontic cases by Dr. Jhonny Houng-lin Liaw , "insignia" the complete CAD CAM based digital orthodontic bracket system ,  "Invisalign" master class under mentorship of Dr. Willy Dayan, Dr. Sandra Tai. Silver Smile is currently pioneer and largest provider of Invisalign in the city of Rajkot, Gujarat. Dr Digant's interest in digital orthodontic diagnosis and treatment methodology can only be seen by the fact that Silver Smile is the only clinic in the entire western region to have its own 3D printer, 3Shape Trios intra oral scanner (first & only one in saurashtra and kutch)  & personalized stand alone 3D planning software , hereby we like to show all the patients how well their teeth can be aligned prior to starting orthodontic treatment.
Dr. Digant has been an invited keynote speaker for may colleges and conferences pan india . He has won the prestigious "Dr George Jacob " award by Indian Orthodontic Society for best clinical innovation of the year in 2020 for is pioneer work of direct 3D Printing Orthodontic Appliaces.
Together, the Silver Smile Team is a highly-motivated, energetic and detail-oriented group that constantly strives for perfection at their duties as well as making you comfortable that you chose the right practice. Team Silver Smile always strives to bring the latest and best in Orthodontic Treatment modalities available any where all over the world right to your door step in the city of Rajkot.
Dr. PRERNA D. THAKKAR
Dr Prerna D. Thakkar is a pediatric dentist par excellence . calming the little ones anxiety towards dental treatment and making sure the procedure is over within no time and lease discomfort to the little ones is one of her best soft skills. She has an experience of 5 years in treating the dental needs of kids. Dr. Prerna is specialized in pediatric dental treatments from simple fillings, root canals, painless extractions, zirconia crowns to space maintainers. At Silver smile we strive to treat the kidos by various techniques of behavior management and persuading them to fearlessly undergo dental treatments which is the prime job of a pedodontist. Dr. Prerna also believes in continuously updating to latest techniques in pediatric dentistry by attending local study group meets, national and international pediatric dental conferences. Her courses for 2018 include trainings for PNAM appliances for treatment of kids with cleft lip and palate, root canal treatment under microscope, use of rubberdam in pediatric patients, zirconia crowns the esthetic way to correct smile for toddlers. she also believes in giving back to society by contributing towards various free health check up camps for the underprivileged in association with social groups like rotary midtown, manjul play house, M.V. Dhulasia to name a few.